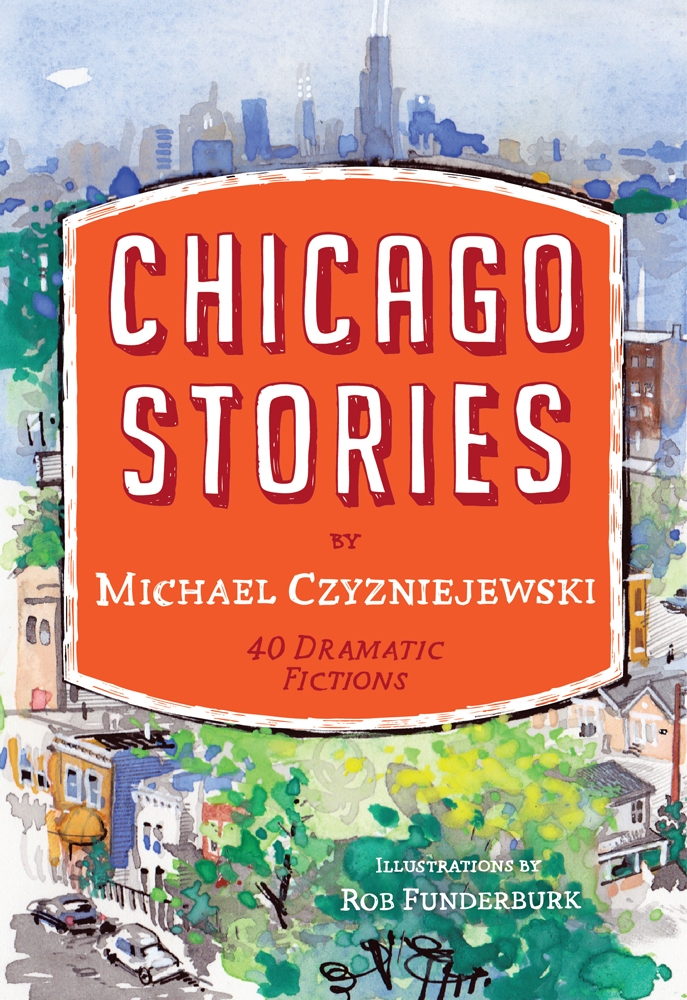 Books
sale
Chicago Stories: 40 Dramatic Fictions
by Michael Czyzniejewski
illustrated by Rob Funderburk
For everyone who's always wondered what would happen if Roger Ebert had taken Oprah Winfrey to a critics' screening of Revenge of The Nerds for their second date. In Chicago Stories: 40 Dramatic Fictions by Michael Czyzniejewski, each story is told in the persona of a famous Chicagoan, from Mrs. O'Leary to Barack Obama.

PRAISE FOR CHICAGO STORIES:
"Flexing impressive literary chops, the beer vendor/creative-writing professor captures both the tough, defensive exterior and the vulnerable, often-broken heart of his city."
—Timeout Chicago
"Chicago, a page at a time. Michael Czyzniejewski gets right to the point in telling the city's stories."
—Chicago Tribune
"...Michael Czyzniejewski's Chicago Stories, forty fictional monologues riffing on the common culture of the Windy City's shared history, projected forward into a possible future. Not quite historical fiction—more like historical jazz."
—Newcity Lit

"In Chicago Stories, Michael Czyzniejewski summons all of Chicago—its ghosts, living and dead, its heroes and fools, sinners and saints, its people and places and all of its occasions—and in these pages they have gathered, strange and unlikely bedfellows, to sing a new song for Chicago. It will twist your arm behind your back, this song. It will break your fingers."
—Billy Lombardo, author of The Man With Two Arms and How to Hold a Woman

ABOUT MICHAEL CZYZNIEJEWSKI:
Michael Czyzniejewski is the author of three collections of stories, including I Will Love You For the Rest of My Life: Breakup Stories, Elephants in Our Bedroom, Chicago Stories: 40 Dramatic Fictions. In 2010, he received a National Endowment for the Arts fellowship for his fiction. He is an assistant professor at Missouri State University and Managing Editor of Moon City Review. He lives in Springfield, Missouri, with his family.
PRESS:
Chicago Reader
Newcity
Gozamos
Timeout Chicago
Pank Magazine
Up Chicago
The Nervous Breakdown
Another Chicago Magazine
Untoward Magazine
PUBLICATION DETAILS:
Pages: 150
ISBN: 978-0983422853
Publication Date: April 2012