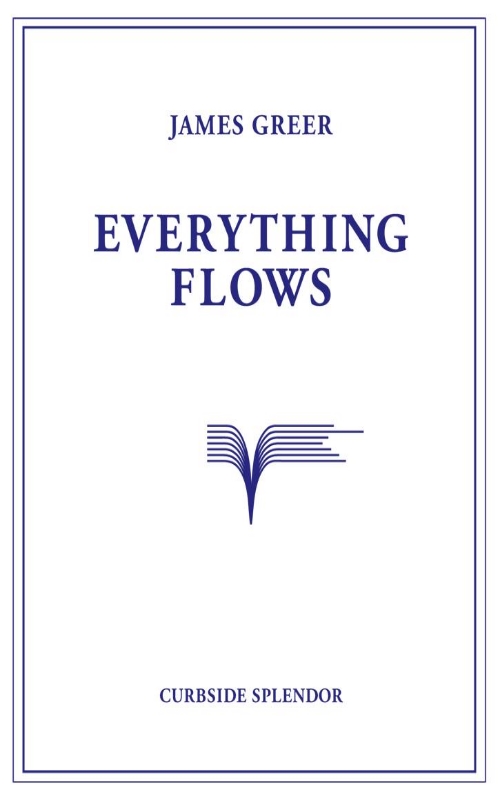 Books
sale
Everything Flows
by James Greer
Everything Flows is the first collection of short fiction by novelist and screenwriter James Greer. The nineteen stories range in scope, but all share a consistency of intent: to fracture traditional narrative tropes and reassemble the shards into coherent, occasionally undulant and meandering forms. Greer explores pop culture, physics, philosophy and music, twisting language into sometimes-strange shapes, arriving at narratives that are both universal and intensely personal.
Everything Flows also features the stunning collage art of Guided by Voices front man Robert Pollard. Besides being known as one of today's most prolific songwriters, Mr. Pollard's irrepressible creativity has been an inspiration to many.
PRAISE FOR Everything Flows:
"Every word matters, even the wildest stories scarcely seeming as though they could be otherwise. Usually this sort of free-associative reverie is called 'strange' or 'playful,' but Greer's lyrical erudition is both serious work and seriously fun. Halfway between the mind of God and a vivid dream, Everything Flows is proof that there remain new places to go, both on paper and in the known universe."
-Publishers Weekly (starred review)
"James Greer writes within the grand tradition of American postmodern, pessimistic, philosophic geniuses. Like William Gass or Guy Davenport, he unites sly humor, erudition, and a certain classical cast of mind, as aware of Heraclitus as he is of Teenage Fanclub. These stories are remarkable. They're also a total freaking blast."
—Mathew Specktor, senior editor of Los Angeles Review of Books
"Dazzling, swirling, ridiculous and disconcerting. James Greer doesn't follow paths, he's a thing of the air."
—Ben Loory, author of Stories for Nighttime and Some for the Day

ABOUT JAMES GREER:
James Greer is the author of the novels Artificial Light (LHotB/Akashic 2006) and The Failure (Akashic 2010), and the non-fiction book Guided By Voices: A Brief History (Grove Press), a biography of a band for which he played bass guitar. He's written or co-written movies for Lindsay Lohan, Jackie Chan, and Steven Soderbergh, among others. He is a contributing editor for the Los Angeles Review of Books, and plays guitar and sings in a band called Détective, after the Godard film of that name.
PRESS:
Vice Magazine
Publishers Weekly
The Fanzine
PUBLICATION DETAILS:
Pages: 125
ISBN: 978-0983422884
Publication Date: October 2013