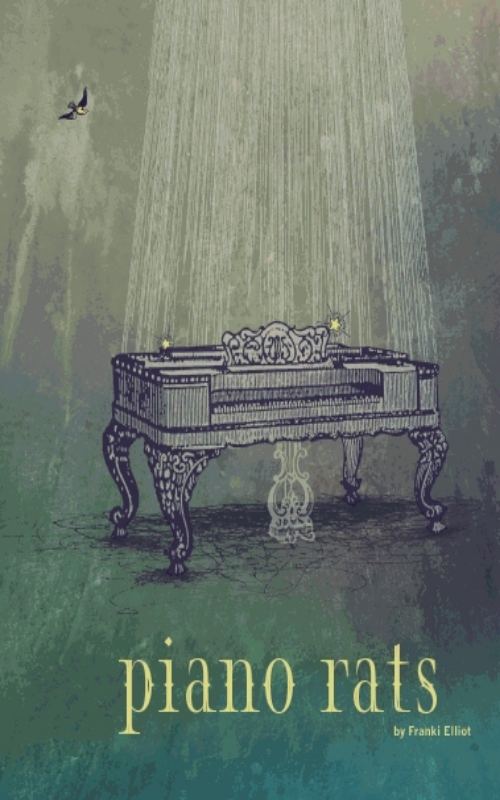 Books
sale
Piano Rats
by Franki Elliot
"What's it about? It's about you. Something you said to me five years ago, five days ago, five minutes ago. It's about sex, honesty, sadness, falling in and out of love, firsts and lasts, awkward moments. It's my secrets and yours."
Piano Rats is a collection of delectable short stories by a young Los Angeles-based writer who calls herself Franki Elliot.

PRAISE FOR Piano Rats:
"LA's freshest wordsmith." —Daily Candy
"The typewriter idea got my attention, but the writing kept me hooked. Franki's stories have soul and wit, but are also made of real flesh and blood."
—Drew Dernavich, cartoonist for the New Yorker
"Franki Elliot's creative writing experiment is proving to be a unique blend of performance art, public art, literature, and text-based multimedia."
—LA Weekly
"Sometimes I run across a poem that makes me second guess my opinion on poetry. It could be a line in the poem that impresses me. Or a person in the poem that makes me wonder what he'd be like in another situation. Or a relationship that makes me want to know if it worked out. Or a memory I have while reading the poem. For me, Piano Rats by Franki Elliot had all of the above."
—Shamontiel L. Vaughn, Chicago Tribune
"The book is a collection of deeply personal pieces, arranged as free verse poems, though Elliot calls them "stories." And they do read as stories, the kind told around a kitchen table—or even, in the case of "Nothing," a recounting of a story that happened while a story was being told around a kitchen table. Most of them detail a down-and-out cast with unbroken spirits, people who predict early deaths but live as if they don't believe it."
—Jonathan Messinger
"The 44 pieces in Franki Elliot's Piano Rats are like the best kind of chance meetings—weird and unsettling, specific and transformative. They are Frank O'Hara meets Ellen Kennedy, first kiss meets "fuck off," hell meets rainstorm, poetry meets prose, narrative meets lyric, trailer park meets city street. But they are also entirely themselves, places where you "remember who you wanted to be."
—Kathleen Rooney, author of O, Democracy! and For You, For You, I Am Trilling These Songs
"Piano Rats is an homage to being stuck between where you've been and where you still might go. It's just that you haven't quite figured out how to escape where you've been and frankly you have know no idea what comes next. And it is this tension of stuck-ness in all its messy, druggy, sometimes hopeful, youthful confusion that lives here in these poems and explodes across these pages, all oozy and terribly electric."
—Ben Tanzer, author of Lost in Space, Orphans, My Father's House, and You Can Make Him Like You
"Franki Elliot exposes what most bury beneath layers of shallow conversations, bottles of alcohol, and innuendo. She will subtly make you love her and hate her in the matter of a few well placed lines."
—Jason Behrands, managing editor of Orange Alert Press
ABOUT FRANKI ELLIOT:
A few years ago, Franki Elliot met a Craigslist stranger at Dunkin Donuts, gave her 60 bucks and left with a 1970s baby blue Smith Corona typewriter. Soon after, she began asking people to send her topics to write about because she was tired of writing about herself. In search of new material, Elliot began carrying the typewriter to various festivals, beaches, flea markets and let strangers come up to her, request a topic, and leave with a story. As Elliot wrote, she also took pictures of her favorite stories and eventually turned them into a tear-and-share postcard book titled Kiss As Many Women As You Can. Elliot, who is Los Angeles-based via her hometown of Chicago, is a music industry professional booking bands by day and writing books by night.
PRESS:
Chicago Tribune
The Paris Review
Chicago Timeout
The Los Angeles Review
The MidWasteland
Monkeybicycle
Chicago Poetry Press
Chicagoist
Heavy Feather Review
BOOK TRAILERS:
Trailer #1
PUBLICATION DETAILS:
Pages: 72
ISBN: 978-0983422839
Publication Date: October 2013