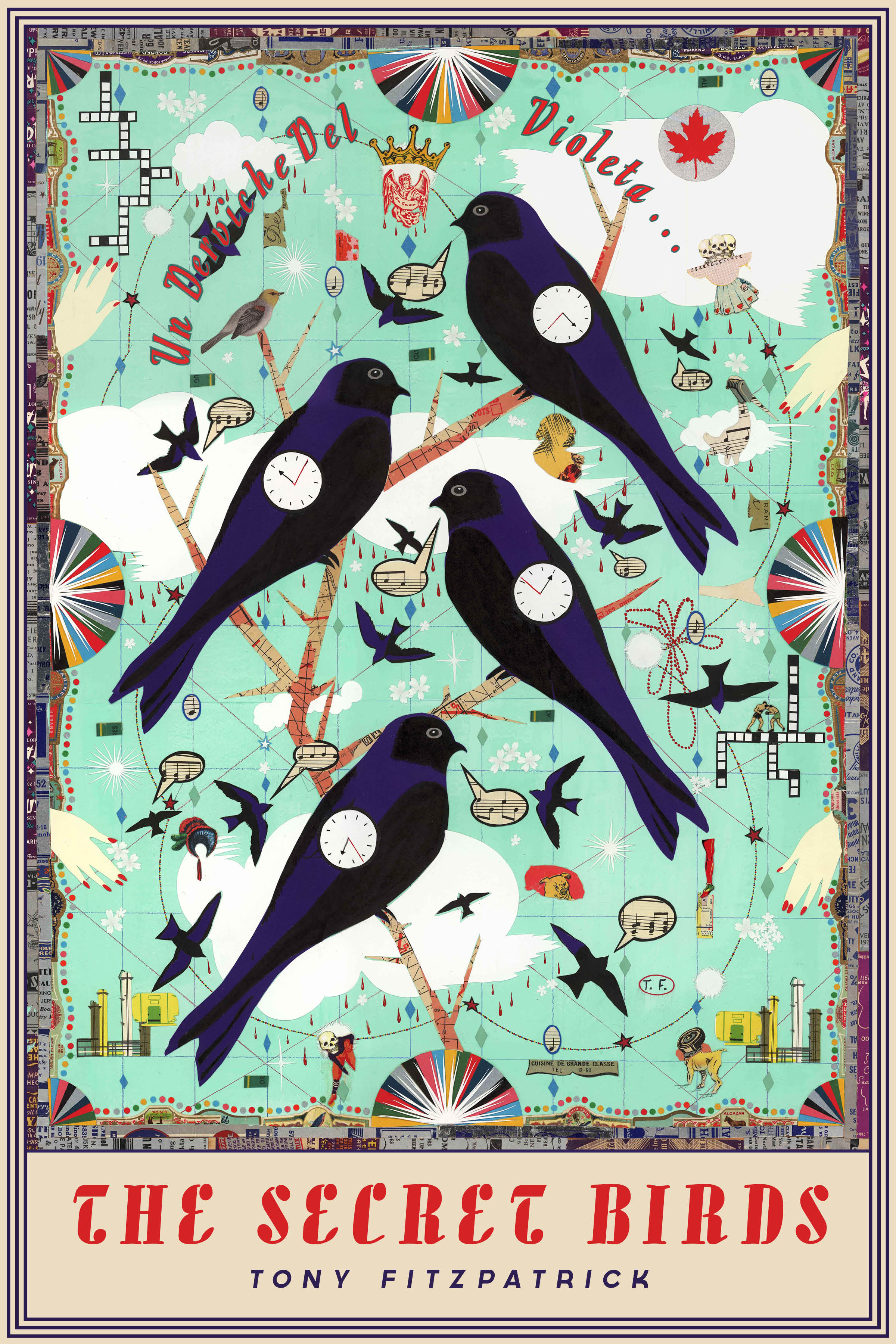 Books
sale
The Secret Birds
by Tony Fitzpatrick
foreword by Helen MacDonald
The Secret Birds, named for his series of drawings by the same name, is Tony Fitzpatrick's iconic exhibition of artwork, poetry, and ephemera that examine life, mortality, and the pursuit of a life spent collecting, traveling, creating, and telling stories.
PRAISE FOR TONY FITZPATRICK:
"[Fitzpatrick's collages] can win you over with their emotion and erudition, both illuminating the greatness of Chicago, as well as with their physical solidity. They are best seen as highly disciplined exercises in nostalgia; their specificity reveals something new about the time and place they yearn for, as well as the medium they use."
—The New York Times
"It's hard to think of a truer Chicago character than Tony Fitzpatrick. He has been a figure in the Chicago art scene for decades: a renowned collage artist, a poet and author, a former radio host, an actor, and a playwright."
—The Huffington Post
"...This is a collection of life observations from a guy who's likely seen more of life than most of us."
—Chicago Reader
"These essays examine with sharp focus and acerbic wit our true nature and that of our changing city, rife with new dangers and old problems."
—Newcity
Praise for Dime Stories:
"Two sides of Chicagoan Fitzpatrick's incandescent creativity, the visual and the literary, are on display in this live-wire volume. Dozens of his intricately patterned, layered, tattoo-like collages, drawings, and paintings pulse with energy, tough romanticism, and wry wit, works shaped by Fitzpatrick's evocative lexicon of birds, flowers, pinups, constellations, dogs, numbers, logos, and cartoon characters.
—Booklist
"This brilliant view into the wild world of Tony Fitzpatrick will move you. His art is astounding and relevant, his writing gutsy, funny, and unafraid. In the tradition of the the great Chicago and Illinois icons—Terkel, Twain, Royko, and Sandberg—Tony Fitzpatrick takes on the phonies and con men and elevates the humanity in us all. From beautiful birds to bar room brawls, Dime Stories exemplifies the work of a true renaissance man. Grab this book and cherish it."
—Andrew Davis, director of The Fugitive, Code of Silence, and Holes
ABOUT TONY FITZPATRICK:
Tony Fitzpatrick is a Chicago-based artist best known for his multimedia collages, printmaking, paintings, and drawings. Fitzpatrick's works are inspired by Chicago street culture, cities he has traveled to, children's books, tattoo designs, and folk art. Fitzpatrick has authored or illustrated eight books of art and poetry, and, for the last three years, has written a column for Newcity. Fitzpatrick's art appears in the Museum of Modern Art in New York City, the Museum of Contemporary Art in Chicago, and the National Museum of American Art in Washington DC. The Neville Brothers' album Yellow Moon and Steve Earle's albums El Corazón and The Revolution Starts Now also feature Fitzpatrick's art. In 1992, Fitzpatrick opened a Chicago-based printmaking studio, Big Cat Press, which exists today as the artist exhibition space Firecat Projects. Before making a living as an artist, Fitzpatrick worked as a radio host, bartender, boxer, construction worker, and film and stage actor.
PUBLICATION DETAILS:
Pages: 100
ISBN: 978-1940430768
Publication Date: May 2016