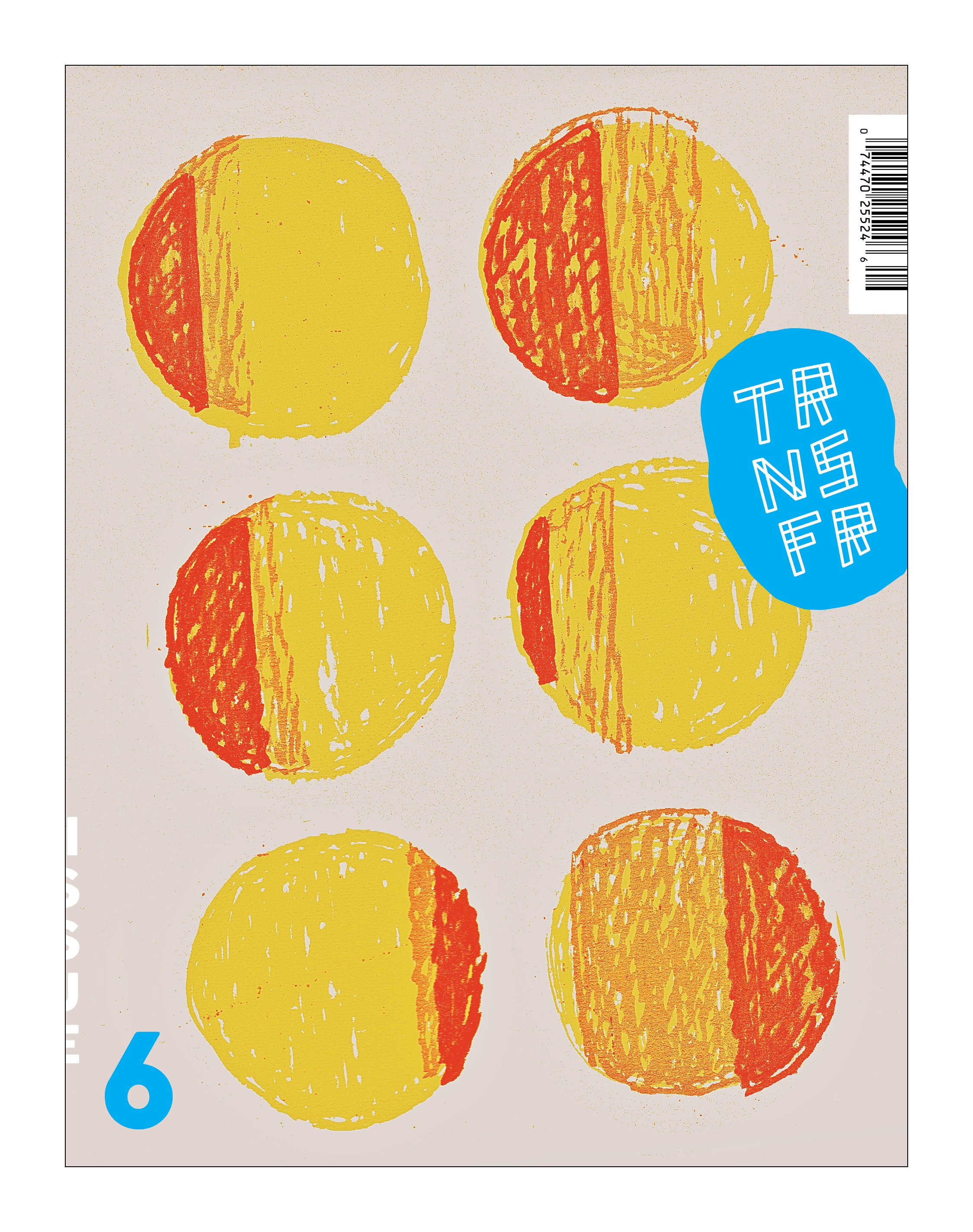 Books
sale
Trnsfr #6
edited and designed by Alban Fischer
Trnsfr returns with a big, fat issue of weirdness and wonder. There's metadata-enhanced glue, hula hoop licking, Keef Richards, and big men named Squeaky. But you might be wondering, are there two chihuahuas tearing apart Emperor Zurg, crying-as-involuntary-prayer, and nine wigs in a Mason jar (+ ants)? Rejoice, Reader—there is! As well as driving like a fucking idiot, being the right kind of injured, and the Top Ten Hottest Grandmistresses! Relax, we got you, this next issue will be out soon.
ABOUT
Founded in 2009, Trnsfr publishes both full-length books and a biannual journal showcasing innovative poetry, prose, and art. Editions are designed and edited by Alban Fischer in Grand Rapids, Michigan. Trnsfr Books will be a new imprint of Curbside Splendor.
CONTENTS
Fiction by Elaine Castillo, Stephen Dixon, Luke Goebel, Katy Gunn, Carissa Halston, Paul Maliszewski & James Wagner, Brooks Sterritt, and Curbside's own Tom Williams.
Poetry by Diana Arterian, Lightsey Darst, Ashley Farmer, Amy King, Michael Sikkema, Parker Tettleton, TC Tolbert, Jen Tynes, and Sara Woods.
Cover illustration by Jac Jemc; interior artwork by Michael Assiff + a riso-printed poster by Swedish artist Ekta and a packet of mini art prints by A.r. Wieczorek
PRAISE
"Trnsfr is a monster."
—Shya Scanlon, author of The Guild of Saint Cooper
"Brilliant and very worthy of your attention."
—James Greer, author of Everything Flows, and former bassist of Guided by Voices
"The most beautiful literary-journal-as-object I've ever seen."
—Scott Bradfield, author of The People Who Watched Her Pass By
"Totally amazing."
—Mark Gluth, author of The Late Work of Margaret Kroftis
"Gorgeous… Everyone should buy a copy for everyone they know."
—AD Jameson, author of Giant Slugs
PUBLICATION DETAILS:
ISSN: 2150-6620
Publication Date: January 2018